Hi, my name is Eoin Treacy.
I've invested in gold for twenty years.
I got into the last gold bull market very early – in 2003.
And I called the top almost at the very peak – in 2012.
Those that followed my lead would have made a fortune: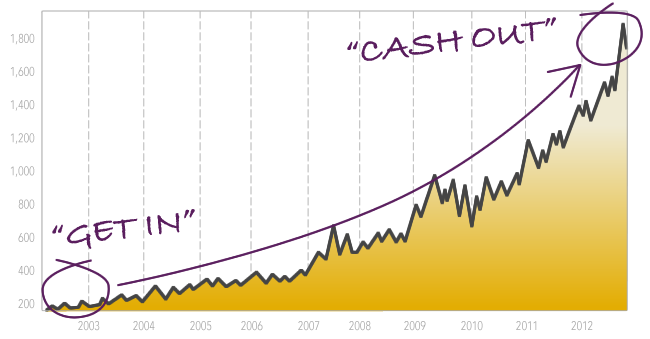 Past performance is not a reliable indicator of future results
Gold rocketed 530% over the decade.
That's the kind of price surge that turns just £500 into nearly £2,500.
Or £10k into £53k.
Incredible.
But I say: "stuff the past!"
Because here's where my inside analysis tells me the gold price is headed next…
*Over the next five to ten years gold could fly past $10k an ounce.*
That's a 670% vertical lift-off that could make you rich – flat-out rich.
Forecasts are not a reliable indicator of future results
And let me make it crystal clear:
You only need a small sum to get a potentially HUGE pay-out from this ready-to-erupt market.
Worth £900 – grab yours today for just £3.95
Because I know a clever way to potentially amplify your gold gains next time the price surges.
That's why I have loaded this handy little USB stick with £900 worth of expert gold investing analysis, research, valuable 'how to' guides…
And exclusive access to gold investment research, showing you:
And, most importantly…
Why the price of gold could be about to erupt…
How and WHERE to buy and store your gold…
Exactly WHICH collectable gold coins to buy today…
EIGHT priceless interviews with the world's top gold investors and experts
A simple (urgent) gold investment master-plan that could turn a £500 starting-stake into as much as £5,000!
Forecasts are not a reliable indicator of future results
I see a big price boom coming,
And almost anyone can buy a little gold and potentially benefit from it.
But what hardly anyone realises is that during gold bull markets…
ONE explosive gold investment can be many times more profitable
The last time gold took off, one often overlooked gold investment generated gains like these:
Gold price amplifier #1: 4,850%
Gold price amplifier #2: 4,400%
Gold price amplifier #3: 9,900%
That's what is possible here.
You don't need a degree in finance to profit from this.
You don't need to understand charts, graphs, options, spread-betting, shorting, options or indexes.
And you don't need to have millions in the bank to profit from gold.
All you need to do is...
Claim your Gold Investor's Masterplan USB and…
JUST PLUG IT IN!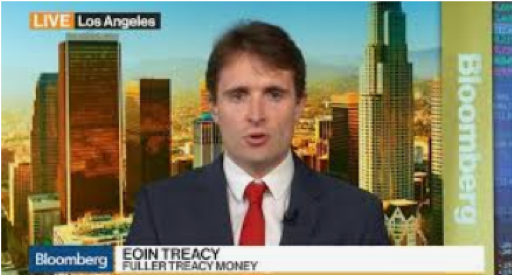 I've been asked for my market insight on Bloomberg TV, BBC, CNBC – but I have never shared my most valuable gold investing secrets on air
I know the gold market inside out.
I've traded the precious yellow metal for two decades.
I am not just an investor, I stockpile gold on an industrial scale for my jewellery business, too.
I even have private meetings with the people who actually pull the stuff out of the ground.
And I recently held the UK's first ever online 5-day Gold Summit.
More than 10,000 people tuned in to learn my most powerful gold amplifier secret.
The same secret I want to share with you today.
And here's what they said about what they discovered:
"I'm confident he can guide me to my first million." JH
"Delighted to have Eoin's peerless advice. I greatly respect him and his hardworking approach in doing what he does so well - helping us lesser mortals to make money and preserve our hard earned wealth." John P
"It has certainly opened my eyes up to the reasons for investing in gold - in fact I bought my first oz of 24ct gold straight afterwards." Simon S
"Ideal for anyone thinking of adding gold to their portfolio." TD
"Watching the summit provides vital understanding of the gold market, what is driving it and how to invest in gold to insure your portfolio against the coming bear market." John P
Believe it or not, I put that exclusive 5-day event on FOR FREE.
I footed the bill to fly in the world's top experts. I allowed UK investors to tune in at no cost.
Because taking advantage of the coming gold bull, in my view, is the most important investment opportunity in the world.
Now I am going a big step further… one that YOU can benefit from today:
I am offering you a GOLD INVESTING MASTERPLAN, on a simple little USB stick like this one, stuffed with valuable research worth nearly £1k…
Before we move on, I'd like to make something crystal clear:
I am NOT a gold bug!
A gold bug is someone who believes you should lump all your savings and spare capital in gold, whatever is going on the in the world.
That's not me.
I am a trader. A wealth manager. My fund was rated the #1 family wealth planning fund in the USA. Because I have spent the last twenty years or so doing one thing:
Getting my clients on the right side of major shifts in the financial markets.
I am urging you to get into gold now because my research tells me waves of people are about to start buying gold as fast as they can.
The financial and political world is absolutely loaded with a disturbing amount of risk right now.
And when the next blow up comes, it could trigger the biggest financial catastrophe any of us have ever seen.
Whether it's a no-deal Brexit we're talking about…
Or the trade wars between the US and China…
Or the brewing European banking meltdown…
Or central banks purposely making our money worthless by printing more…
Or a military invasion by Russia…
Or a debt blow up in another major economy…
Add it all up and you are looking at the ingredients of an epochal downturn in the markets.
Not just a recession. Or a correction. But, in my view, a generation-defining reversal of fortunes.
And I believe the corresponding exodus into gold will be rapid and dramatic.
Forecasts are not a reliable indicator of future results
A WALL OF SAFE-HAVEN MONEY is coming and it could send gold and gold stocks sky-rocketing!
Big money, strategic capital is already moving into gold, anticipating the rush:
"Russia Is Dumping U.S. Dollars to Hoard Gold" - BLOOMBERG
"China's gold-buying spree continues as central-bank market booms" – BUSINESS INSIDER
"Central bank gold buying hits highest level in half a century." - CNBC
One of the most powerful investors in the world – George Soros, who has a net worth of $8.3bn – recently took a "massive position" in gold.
These are the biggest buyers in the financial world. Market movers.
They are not loading up on stocks. Or property. Or Bonds. Or Crypto.
They are buying gold at a record breaking pace… and that tells me they are preparing for a crisis.
That means we are approaching a time, perhaps very soon, when a wave of 'worry money' is going to abandon the stock market…
And absolutely flood into the greatest financial insurance policy in history:
GOLD.
Do not get left behind.
Today is a crossroads for you as an investor and provider for your family.
You want to make as much money as possible as gold hits an all-time high.
Even better – you want to multiply your gold gains… even after the gold price rises.
And that is why I am writing to you today.
I have devised a way to show you, directly how I think you can not only profit from investing in gold…
But take maximum financial advantage of the coming rush.
It's all here, on this simple little USB device…
Everything you need to understand the gold markets… and make a potential killing from them.
All the important lessons and strategies I have learned over 20 years investing in the precious yellow metal.
Including a complete guide to the savviest and most cost efficient ways to buy and store your gold investments from TRUSTED brokers.
I'll show you the THREE major catalysts that could push gold past its all-time high… past $5,000… past even $10,000!
These are the gold experts EVERYONE wants to hear from, that's why they have appeared on CNBC, BBC, KITCO, BLOOMBERG, WALL ST. JOURNAL and FINANCIAL TIMES
Revealing FOUR urgent gold investments you can make today that could pocket you a small fortune! It has nothing to do with physical gold, ETFs or options.
It is my tried-and-trusted way of investing for MAXIMUM profit potential during a gold boom. My secret gold price "amplifier".
It is jam-packed with priceless, practical gold investing know-how…
Full of expert market analysis on why now could be the best time in a CENTURY to buy and own gold
Loaded up with exclusive video interviews with the most in-demand gold experts on the planet…
PLUS… My personal plan for profiting from the coming gold bull market!
What I have put onto this convenient little USB will:
1. Make you one of the most clued-up gold investors in the UK – even if you have NO experience investing in gold or the stock market…
2. Help you understand why major changes in the financial and political world could soon make gold a crucial investment for millions of people…
And, most importantly…
Forecasts are not a reliable indicator of future results
3. Show you how you could turn a £500 starting stake into as much as £5,000!
All told, this gold intelligence treasure-chest is worth more than £900.
But…
If you have a valid UK postal address – IT IS YOURS!
I'll even cover the P&P fee
*(Reminder: There are only 1,000 available in our warehouse.
Stocks are likely to disappear FAST.)*
Just tell me where to send your USB and it will slide through your letterbox within the next 3 days!
All you have to do is wait for it to land on your doormat… then plug it in!
The question is…
Why am I offering this research for next to nothing (and even paying the postage and packing?!).
It's simple:
As a $600m wealth manager and professional trader, my #1 message right now is a very straightforward one:
"Get into gold as fast as you bloody can!"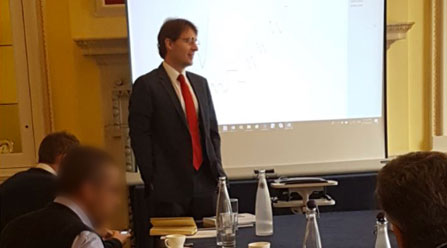 Here I am at my £2,000 a day private trading seminar, showing the managers of some of the biggest funds in the world how to pick winning stocks
Or you may regret it.
I can't say it any clearer than that.
As an award-winning $600m wealth planner, I have a reputation for buying the right investment at the right time.
That's why my fund was voted #1 in the USA for family wealth planning…
That's what I did in the early 2000s when I bought into gold before its 500% surge.
That's what I did in 2013 when I picked up Tesla for just $10 – before its 3,000% rise.
That's what I did last year, when I told my subscribers to get into the stock Turtle Beach.

They came out with a 198% profit.
Past performance is not a reliable indicator of future results
But like I said earlier – that's the past.
Now my focus is on the NEXT 'big one'… the NEXT fortune-making investment that could deliver life-changing returns…
And everything tells me gold is on the cusp of the biggest price eruption of our lifetimes.
You are not going to miss it.
I won't let you!
Give me your address and I will get your Gold Investor's Masterplan USB in the post TODAY.
Claim yours, plug it into your laptop or computer and you will discover:
The three powerful forces that are converging right now – for the first time in history – that could send the price of gold SOARING.
Now is the perfect time to get this expert gold investing wisdom.
You will have everything you need to make smart gold investments AHEAD of the crowd…
You will be perfectly positioned to rake in the maximum upside from what I believe could be an ENORMOUS run up in gold.
I'm not the only one who thinks so:
"Gold prices are headed to $10,000." Former Investment banker and CIA analyst, Jim Rickards
"Trade of the century: Buy gold, sell stocks." $25bn Hedge Fund, Crescent Capital
"Stop thinking and start buying. If you don't own any gold or silver, what are you waiting for? Prices are going to start to go up a lot faster. And once it really goes, it's going to leave a lot of people behind." Gold expert, Peter Schiff
As I just showed you, there's already a "big money" rush into gold going on… one that the wider market hasn't YET woken up to.
This is your chance to move BEFORE the mania sets in.
Whether you have invested in the gold market before or not, it doesn't matter.
Anyone with money they are happy to risk can get in on gold and the overlooked "gold profit amplifiers" revealed on your Masterplan USB stick.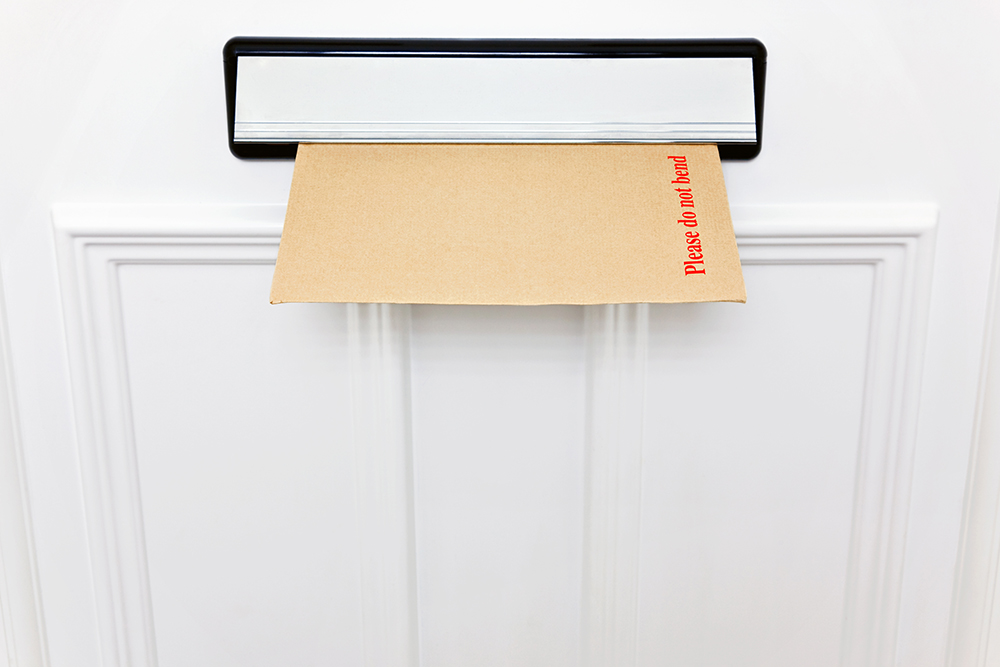 If you have a valid UK postal address, I will tell the mailing house to send your GOLD INVESTOR'S MASTERPLAN USB out TODAY! And it will pop through your letterbox within the next 72 hours
It contains everything you need to know (and do) to be a savvy gold investor.
In my view, getting into gold is the single most important investing opportunity in the world right now.
That is why I have arranged a way for you to get my most valuable gold investing research for less than you pay for a cappuccino in Starbucks…
And I'll even waive the postage and packing costs.
I expect available stock to run out QUICKLY.
So let's move FAST, here…
Let me show you EVERYTHING I have put on your complimentary gold investing masterplan USB for you…
Yours today:
Everything you need to become a gold investing master!
I really have spared no expense or effort here.
As you are about to see, the investing research, intelligence and recommendations on your Gold Investor's Masterplan USB are extremely valuable…
Worth almost £1k.
Once it is in your hands, your knowledge about gold and gold investing will rapidly increase.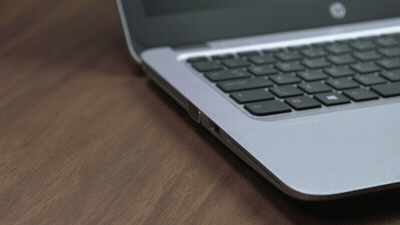 Claim yours, plug it in, start using my personal masterplan for profiting from the coming gold boom.
And that alone could be incredibly lucrative for you for years to come.
But this isn't just about increasing your knowledge…
You will also have everything you need to turn your knowledge into ACTION… and start making shrewd gold investments right away.
Here's what's coming your way IF you are one of the first 1,000 people to grab your USB stick today:
Gold Masterplan Part I: UNDERSTAND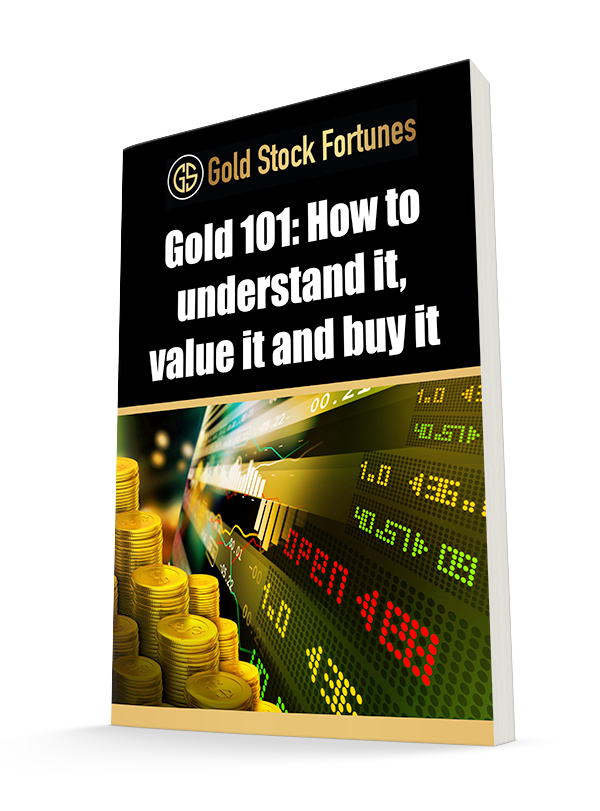 First, you will get a comprehensive grounding in gold investing…
"Gold 101: how to understand it, value it, and buy it."
In this crucial briefing, you will learn how to value gold and how to understand its unique position in the financial landscape. Is it money? Is it a store of value? Should you buy it to protect your wealth… or to speculate on it and profit?
In this guide, I will run you through, step-by-step:
✓ How the gold price is set
✓ How to buy physical gold
✓ Coins vs bullion – which is right for you?
✓ How gold performs vs silver
✓ Geopolitics – what affects the gold price?
✓ How to understand the 'fineness of gold'
✓ Which trusted brokers you should use
✓ Where to store your gold investments
Worth: £50
Once you have a grip on the basics…
I'll show you why now could be the perfect time for you to start investing in the precious yellow metal: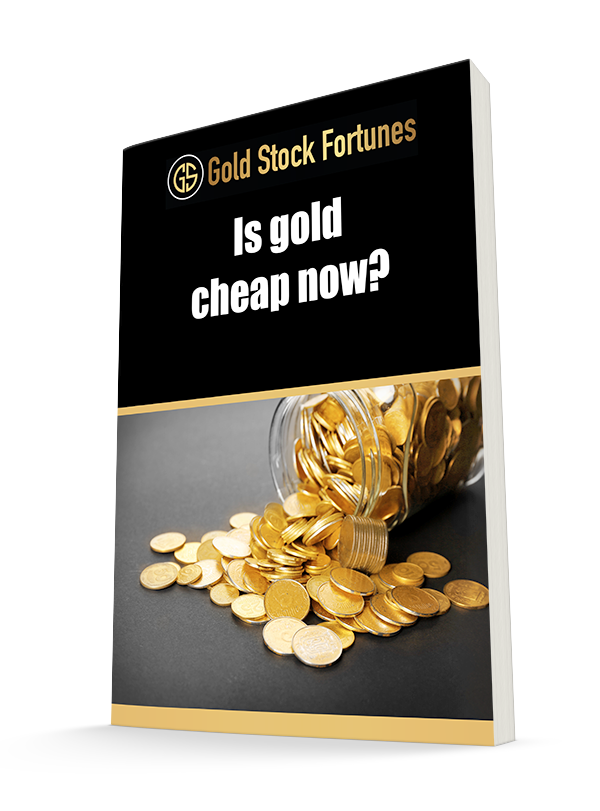 "Is gold cheap now? Why this is the best time in a century to buy in"
You will discover why now is the perfect time to have a stake in gold's future… and why, according to my original research, gold is dirt cheap right now. You'll understand why gold is so good at keeping wealth safe from catastrophe… and the overlooked catalyst that could kick-off the next explosive bull-run.
Worth: £50
Once you understand how to buy gold, and why now is such a good time to do so… I'll take you deeper into the market in my exclusive video analysis: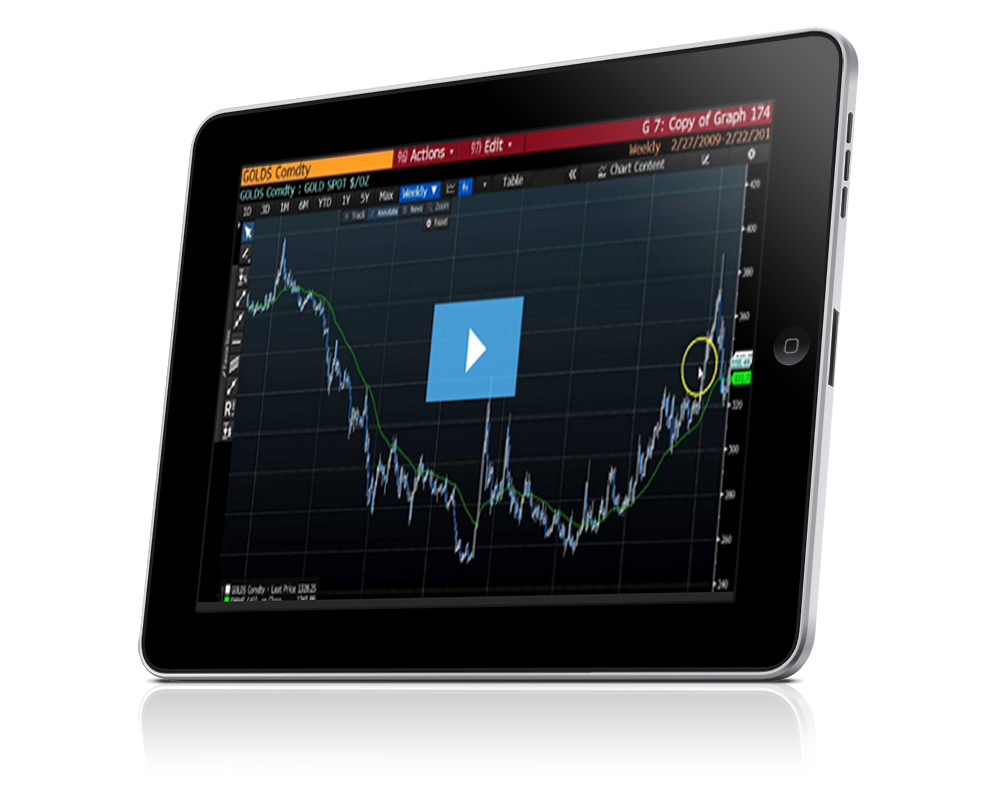 "Gold – an explosion waiting to happen"
As a professional trader, investor and wealth planner I have a $25k a year subscription to a private Bloomberg terminal. It is the single most indispensable tool in the investment world.
From this terminal I have recorded an exclusive video for you. It's loaded directly onto your USB. Watch me share with you the key signals I see in the gold market that tell me one thing: it is a coiled spring. And when the pressure is released, it will be explosive!
Worth: £50
And the final report shows you why gold could surge beyond all expectations in the coming months and years…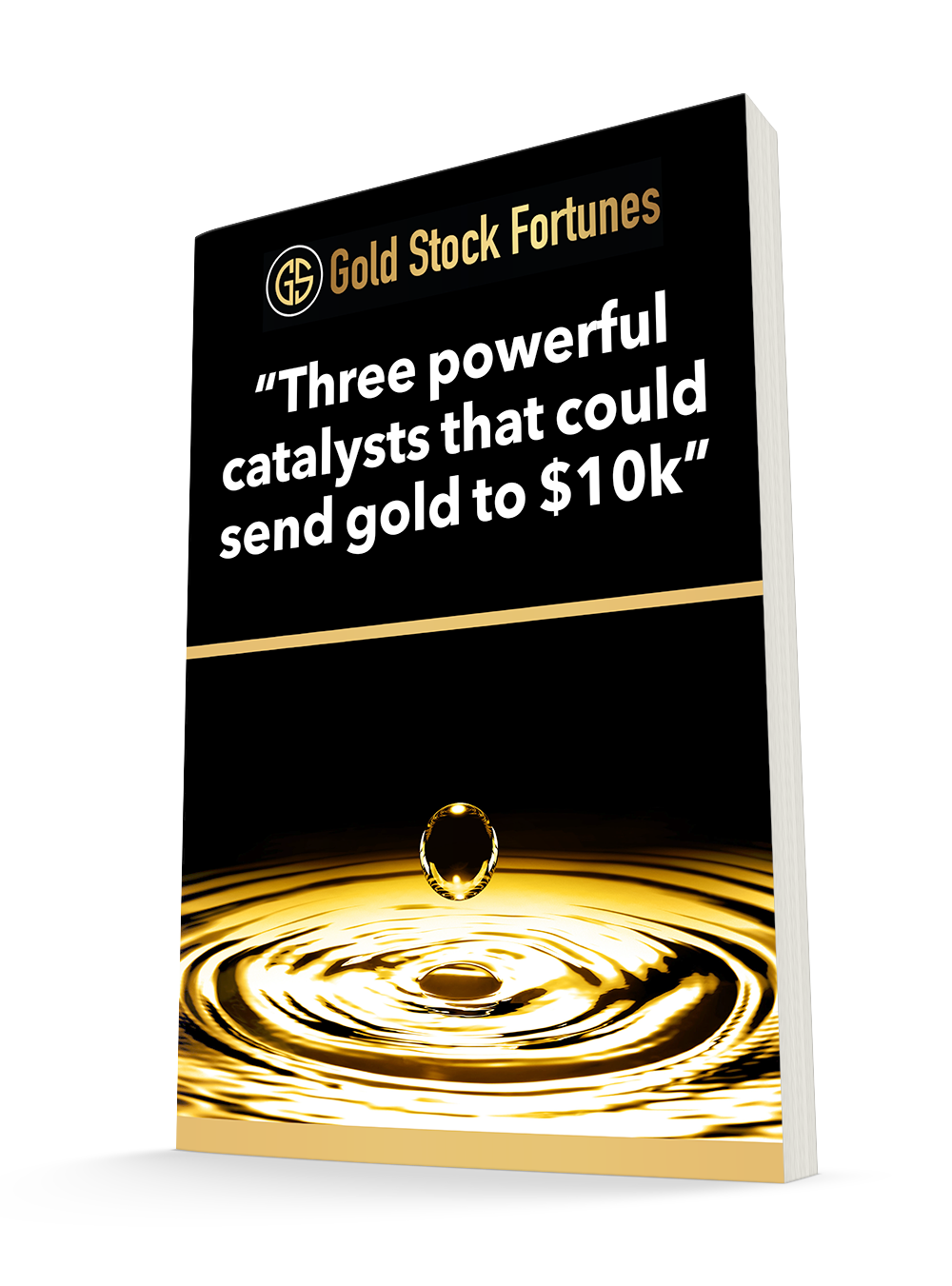 "Three powerful catalysts that could send gold to $10k"
Three powerful forces are converging – all at once – that could send the gold price through the roof. In this briefing – written in plain English, you will discover:
Catalyst #1: Why governments and central banks are secretly stockpiling hundreds of tonnes of available gold… and how that could cause a 'gold famine'
Catalyst #2: How the rise of populist leaders binging on credit could trigger the next financial crisis – sending millions of people flocking into history's greatest wealth protector… GOLD
Catalyst #3: The single biggest ticking timebomb in the world right now… something that could cause HAVOC to the financial system. It is completely overlooked by the mainstream press and it could detonate THIS YEAR.
This report will join the dots for you… between the major threats to your wealth in the world right now… and how making smart investment in gold could see you prosper.
Worth: £50
As you can see, PART I alone of your Gold Investor's Masterplan USB is worth £200! This is research we could and will be selling to UK investors.
And I am not stopping there!
Because understanding what's going on with gold is only half of what you need to know:
Gold Masterplan Part II:
THE PROFIT BLUEPRINT
So, where could the really BIG money be made from the next gold price boom?
Owning hold-in-your-hand gold is a great way to benefit from booming prices, no question.
And it is a great means of wealth protection in turbulent times. It doesn't lose out to interest rates. It doesn't get stung by inflation.
For 6,000 years gold has been a fantastic store of wealth.
But if you are really ambitious, I want to take things up a level for you now.
And that means using a small amount of risk capital on the gold investments that can shoot the highest during price booms:
Gold miners.
These are the gold profit 'amplifiers' I told you about earlier.
Believe me, owning the right miners in a gold boom can be outrageously profitable.
But when a miner really takes off in a gold boom….You can amplify the gains that physical gold makes you, many times over.
Just take a look at what happened during the last gold bull:
Newcrest Mining: 1,140%
Kinross Gold: 4,400%
GoldCorp: 9,900%
Past performance is not a reliable indicator of future results
Even landing big winners like that, it can be a volatile ride. Which is why you should only ever invest your risk capital. That's money you can afford to lose.
What it also shows is: when miners take off, the climbs can be dramatic.
There is simply no other way to play a gold boom if you are gunning for MAXIMUM possible profit.
Right now, serious money is already starting to creep in to this overlooked sector:

And in this report, I'll show you why and how to spot undervalued gold diggers: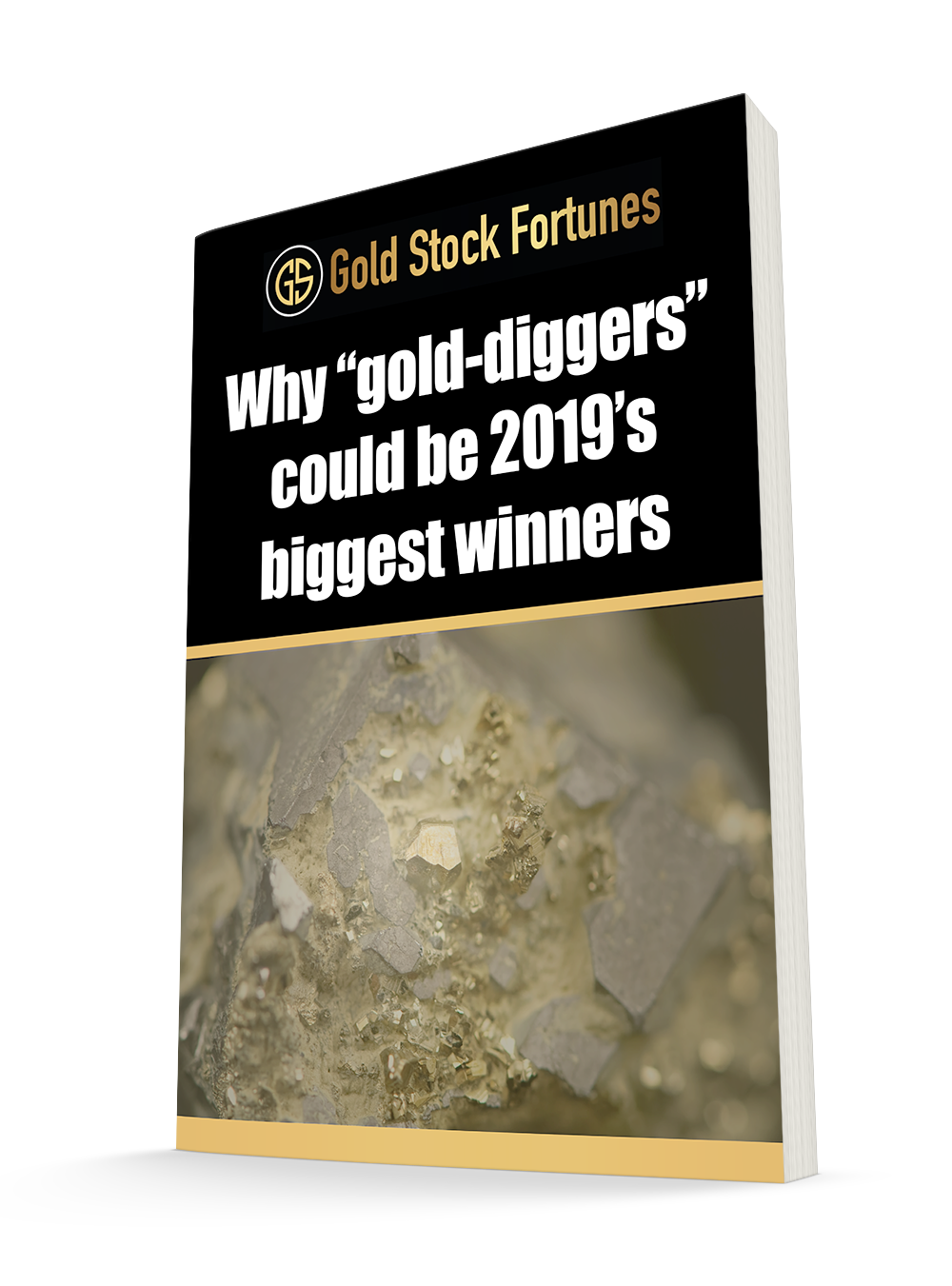 "Why 'gold diggers" could be 2019's biggest winners"
Forecasts are not a reliable indicator of future results
If you're ambitious about making money from gold – I think you will love it.
I'll show you why mining stocks are perfectly poised to spring up in price… and why I am focussing on a certain type of miner right now.
Worth: £50
Importantly, I will also run you through all the risks when it comes to investing in gold miners…
Because understanding risk is a crucial part of increasing your gold investing know-how and something I take very seriously.
Owning shares in a mining company is riskier than owning physical gold. That is to say it carries a different type of risk.
The risk with owning physical gold is that it could be stolen. That's not insignificant. It's also unregulated meaning if something goes wrong you have no recourse to recover your money.
In general, investing in the stock market opens up the risk of a company going bust or seeing its price decline because of unforeseen events.
Also, gold miners are often overseas and their stock price will be denominated in a different currency. This means you have to consider currency conversions and how that could affect any returns. The effect can be positive or negative.
Please note, that I only recommend buying from major exchanges in the UK, US, Australia and Canada. Nothing too exotic.
And, let's remember, stocks can be volatile. So you need a bit of nerve. That's why you should only invest money you can afford to lose.
Go in with your eyes open, with a smart risk strategy, and you could put yourself in an extremely lucrative position.
Next up, what physical gold assets could soar the highest during the coming gold bull market?
I'll share my top pick right now with you – in the next briefing on your Masterplan USB: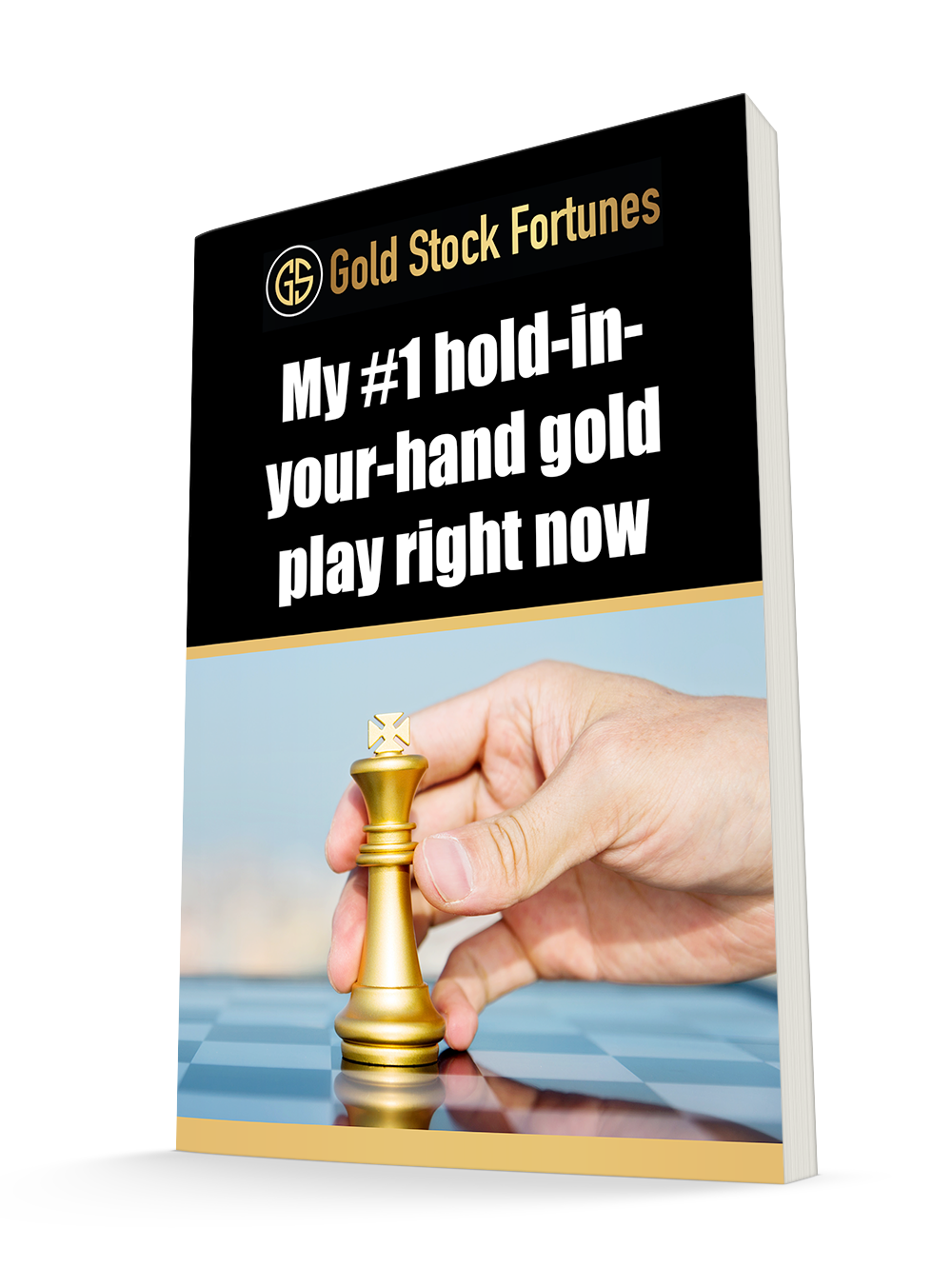 "My #1 hold-in-your-hand gold play right now"
I believe the next boom is going to be rampant. In truth you could simply buy bullion or jewellery and see a very satisfying return on it.
BUT, if you want to gun for the maximum possible upside from the next gold run up… there is ONE collectible type of coin I think makes a lot of sense right now.
And I'm backing it to out-gain every other type of physical gold when the price really takes off. In this report, I'll share all the details of my #1 physical gold pick with you.
Forecasts are not a reliable indicator of future results
Worth: £50
The final element of your Gold Investor's Masterplan is an important one… because you can't just buy gold and gold stocks BLINDLY.
A lot of people will make a lot of mistakes, even in a boom. So let me show you…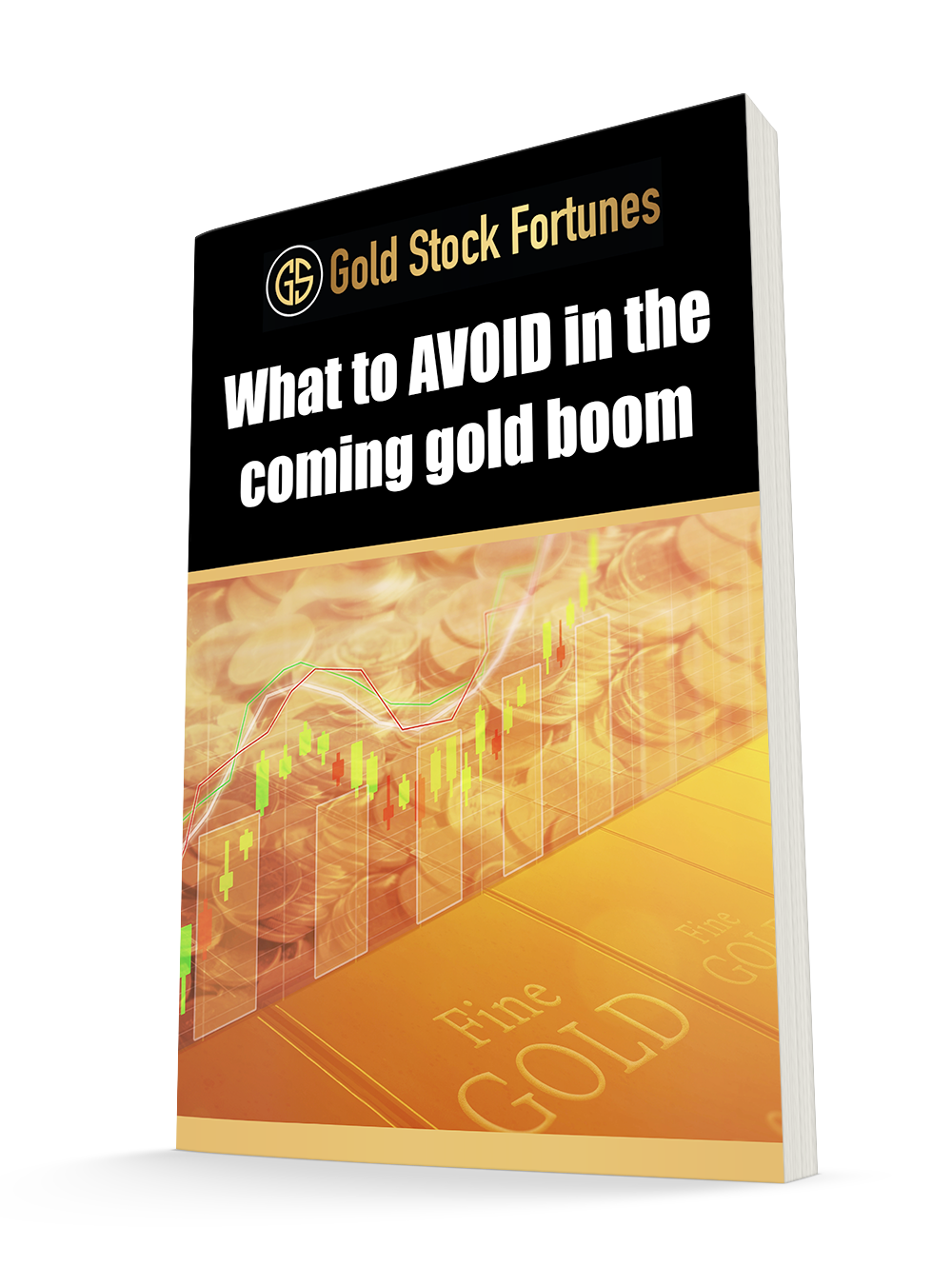 "What to avoid in the coming gold boom"
While there is a lot of money to be made from gold, it's just as important to avoid making costly errors. In this report I explain what characteristics put certain gold investments on my 'never-buy' list.
Worth: £50
Part II of your Masterplan USB is worth £150, all in.
Added onto Part I, that's £350 worth of valuable and useful gold investing research, know-how and recommendations.
Before I show you how to get your hands on that research – for just £3.95 today…
There is ANOTHER crucial part of your USB that I need to show you:
Gold Masterplan Part III:
The 2019 Gold Summit
In March 2019, I footed the bill to fly in seven of the world's top gold investing investors, experts and analysts.
I wanted to put expert gold investing intelligence in front of as many UK investors as possible.
So I made every single valuable broadcast FREE TO VIEW.
More than 10k viewers tuned in and the feedback I received was overwhelming:
"I believe the summit was a great idea and it shows that you genuinely care about your subscribing clients in what is a very uncertain financial climate in early 2019. I have already taken up one of the two key pieces of advice - to invest in more physical gold - and I will be in a position to address the second key advice - on buying a particular mining company stock - as and when my finances permit." JW
"The summit was fantastic, experts across the subject and presented so it all could be digested at convenient times." DH
"I am very pleased that I have Eoin with his expertise of the gold market to guide me and I would like to thank him for his successful Summit." MPR
"Outstanding. The calibre of the speakers was excellent and I appreciated their varied perspectives on gold, economics and the geo-political environment." DM
The summit featured a who's who of gold insiders – that's why they have appeared on CNBC, BBC, Bloomberg TV, Forbes, Reuters, CNN, you name it.
You will have unrestricted access to every video interview with these in-demand experts...
Grant Williams on the return of the gold standard
There's a reason it cost $2,699 to hear Grant Williams' keynote speech at the 2018 Stansberry Alliance Conference: he is one of the most respected authorities on gold in the world. Grant is also a publisher of Things That Make You Go Hmmm, one of the most popular and widely read financial publications in the world. This is a rare chance for you to hear insight from a real gold insider – for free.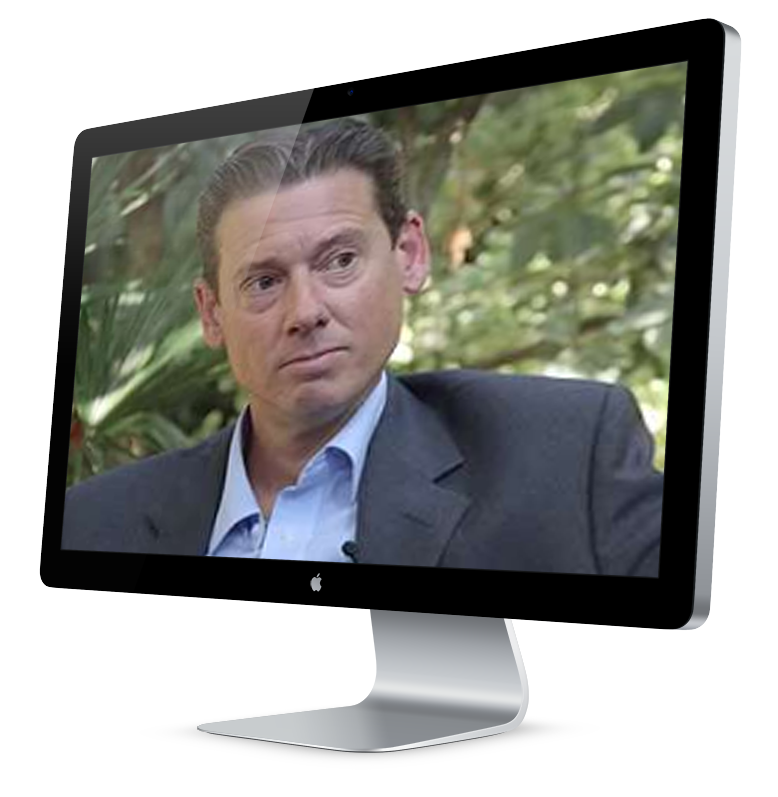 John Butler on the future of gold as money
A number #1 ranked investment strategist by Institutional Investor magazine, John Butler's resume is truly impressive. Over 20 years' experience in international finance, he has worked for Deutsche Bank and Lehman Brothers. Not only is John on record having anticipated the great gold bull market of the 2000s, but also the US housing market crash of 2007-09 and the protracted euro debt crisis. John's publications include The Golden Revolution, which has been regularly cited in The Wall Street Journal and Financial Times.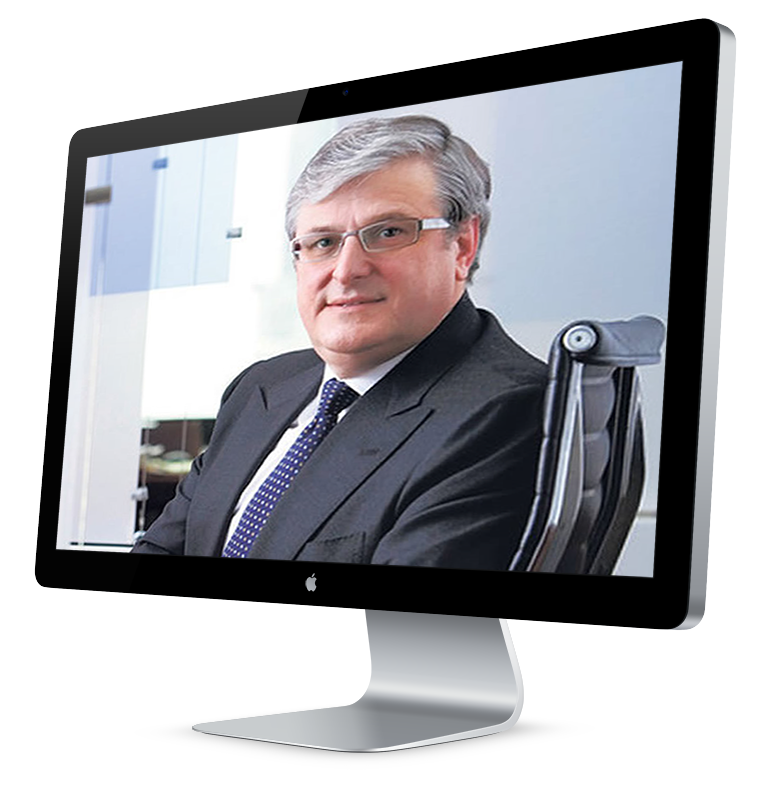 Simon Mikhailovich on unplugging your wealth from the financial system
Simon Mihailovich emigrated from the Soviet Union with just $100 in his suitcase. After putting himself through university with a M.S. in Business from the University of Baltimore and a B.S. from John Hopkins University, he co-founded Eidesis Capital in 1998, which was responsible for over $2.5B of capital. Simon performed the miracle of saving his clients' money from the collapse of Lehman Brothers. He now manages Tocqueville Bullion Reserve.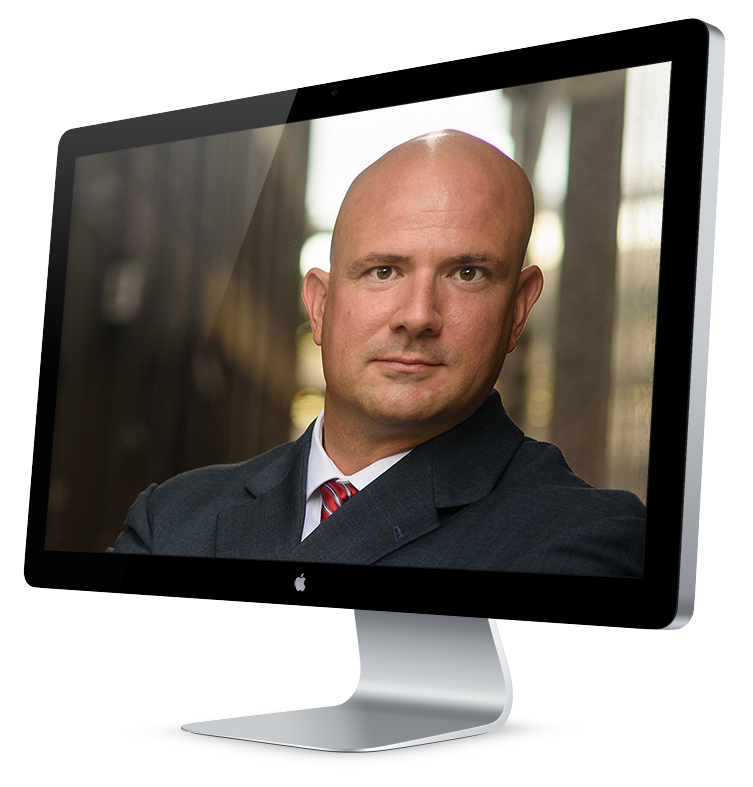 Luke Gromen on the weaponisation of money
Luke Gromen's career began on Wall Street in the mid-1990s. He went on to co-found the Cleveland Research Company, moving on in 2014 to found "The Forest For The Trees", a macro/thematic research firm. Luke's contrarian views won't be seen in the mainstream media. And that's what make them so valuable. He is widely respected as a go-to voice on gold.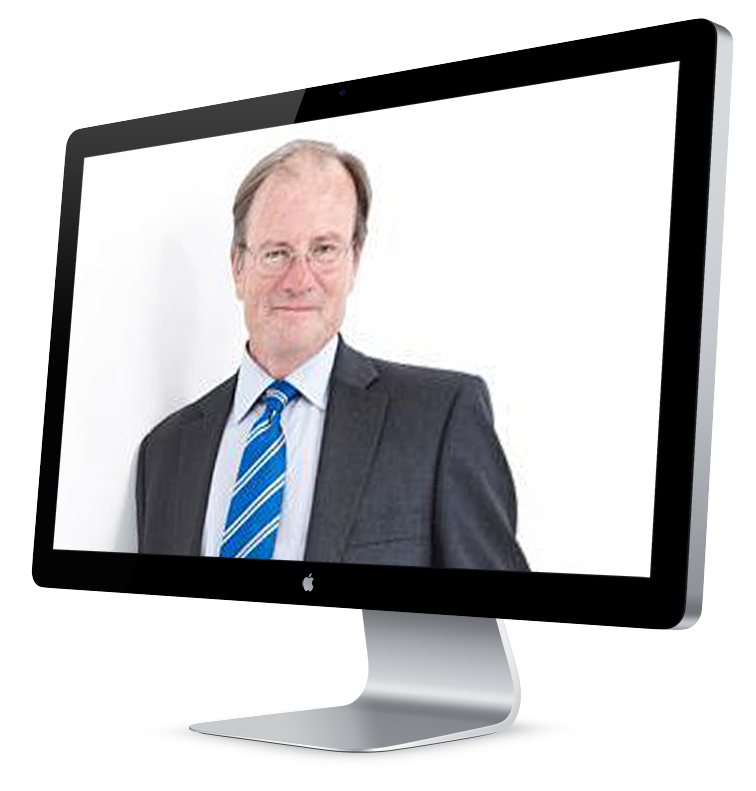 Alasdair Macleod on China's gigantic gold hoard (and what it plans to do with it)
Alasdair Macleod has been a master of the markets for over four decades. It took him only nine years to become a senior partner of his first firm. Since then his experience encompasses equity and bond markets, fund management, corporate finance and investment strategy. It comes as no surprise that CNBC has featured him for his expertise on gold. Alasdair is also Head of Research for GoldMoney.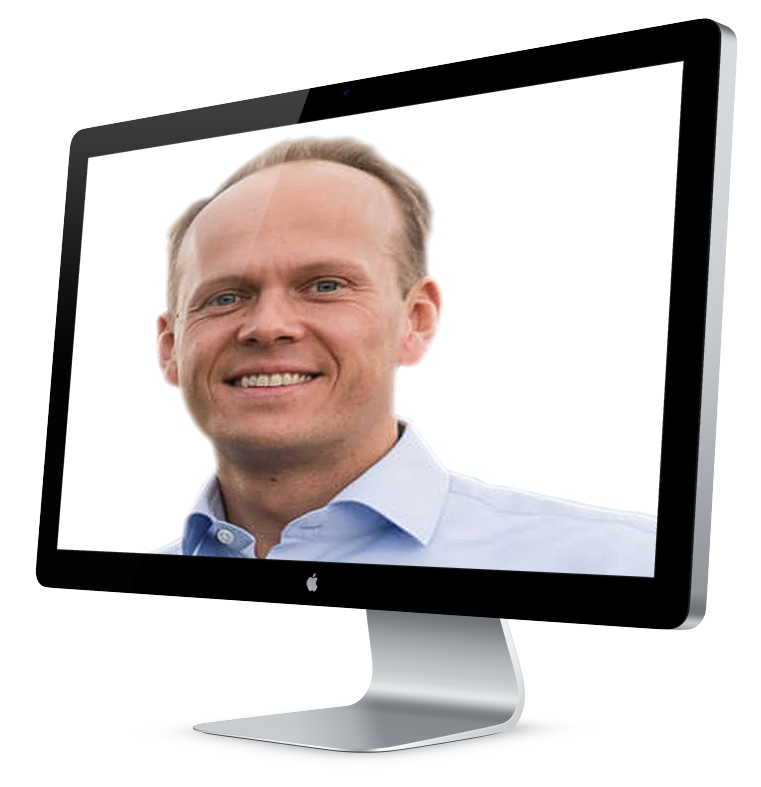 Ronald-Peter Stoeferle on why "In Gold We Trust"
Ronald-Peter Stoeferle shot into the headlines when he forecast the price of gold rising from USD 2,300/ounce – at a time when the price was only USD 500. His widely celebrated report titled "In GOLD we TRUST" drew international coverage on CNBC, Bloomberg, The Wall Street Journal and Financial Times.
Dominic Frisby on gold as the money of last resort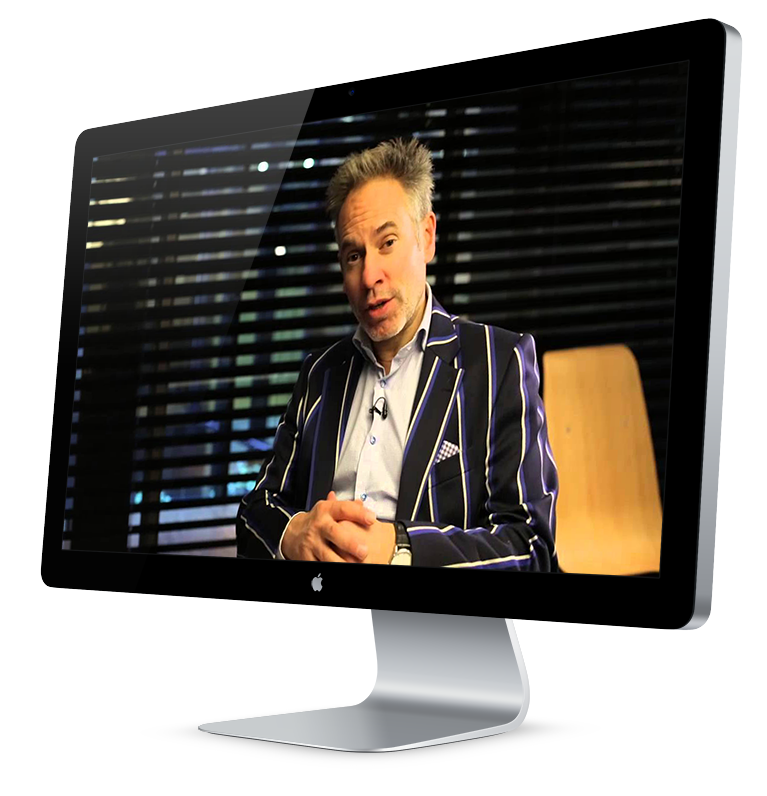 MoneyWeek's Dominic Frisby is a popular financial writer and comedian. He is the author of Life After the State, Bitcoin: The Future of Money, and the forthcoming Daylight Robbery: How Tax Has Shaped Our Past And Will Change Our Future.
Watch each exclusive Summit Episode and you will become more informed about gold than 99% of other investors.
You will understand WHY gold's role in the financial system is changing, fast.
And WHY millions of people could soon rush into the gold market – driving up the price.
We will soon offer access to this premium content for £500.
And even at that price, getting gold intelligence like this from world-renowned experts, it's a bargain.
For you – unrestricted access is granted FOREVER…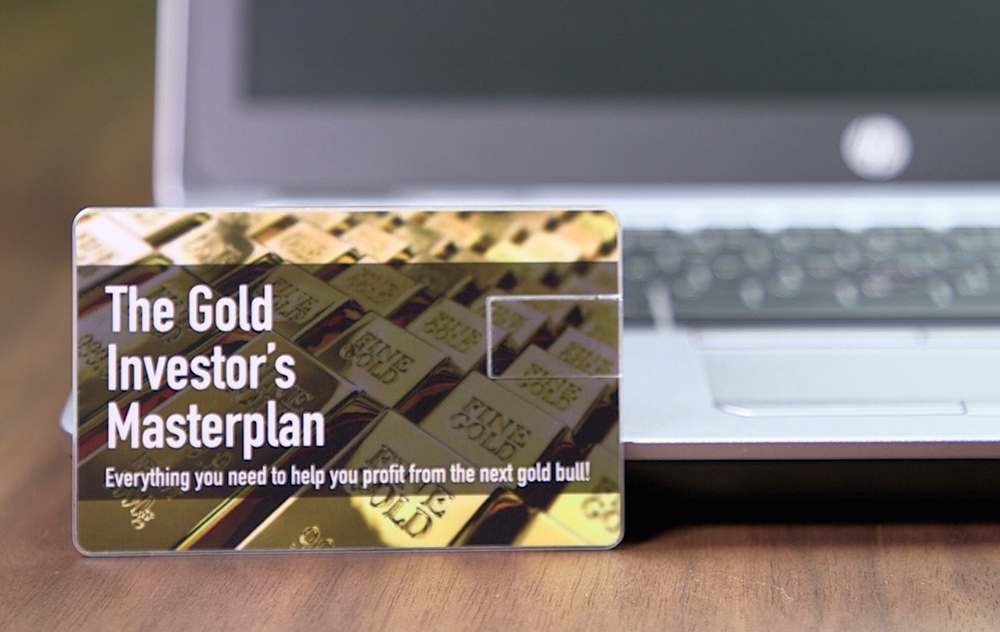 Everything is loaded onto your USB – yours today for £3.95 – but only while stocks last!
But only IF you collect your Gold Investor's Masterplan USB stick for just £3.95 right now!
OK, that's almost everything loaded up on your Gold Masterplan USB…
You're getting my complete gold investing blueprint.
And it is all available for you to view at your own pace, dipping back in and out, whenever you want.
In just one moment, I will give you the details you need to claim everything above for just £3.95 today.
But just before I do… believe it or not, there's one last thing I'd like to add to this incredible package for you.
And in terms of outrageous profit potential, the most valuable gold gift I can give you as an investor right now…
A 30-day all access pass to the UK's ONLY gold investing advisory:

In March, I launched my brand new gold investing service Gold Stock Fortunes…
It is the only service of its kind in the UK.
And in every issue I'll share with readers:
✓ My deep level market insights on the gold market
✓ My conversations with gold experts and insiders
✓ And the names of the companies I think stand to profit the most
I believe those who act now – and get into the gold stocks I've uncovered – could turn every £100 into £1000.
Forecasts are not a reliable indicator of future results
I want to help you make as much money as possible from the coming gold rush.
That means building a smart portfolio of gold stocks.
I launched this new service so I can send you everything you need to become a smarter, more informed gold investor.
And if I am right, a richer one, too.
Every month I'll send you my deep market analysis.
My conversations with gold insiders and experts.
And, of course, my exclusive investment recommendations.
With your 30-day pass to Gold Stock Fortunes, you're going to immediately benefit from my contacts in the mining industry.
You're going to benefit from my two decades as a professional trader and analyst.
You're going to benefit from being in EARLY… at the very start of what I believe could be a monumental surge in gold demand – and price.
And you're going to be one of the early movers into gold stocks that could turn every £100 you stake into £1,000.
Forecasts are not a reliable indicator of future results
Getting in now on rock-bottom "gold diggers" could prove the most lucrative move you EVER make with your money.
Your personal 'gold intelligence' bulletin
This is a period of great change.
Many will ignore these changes or simply will not see them coming.
You will. I'll make sure of it.
Right away, Gold Stock Fortunes will plug you in to a very special group of investors, analysts and thinkers.
You see, it's published by Southbank Investment Research. If you have never heard of Southbank, I wouldn't be surprised.
It is part of the world's largest underground financial intelligence network with offices in Baltimore, Florida, Buenos Aires, Rio, Melbourne, and here in London…
Agora. With more readers than the Wall St Journal, Financial Times and The Economist – combined.
Agora's network has grown rapidly because we have a simple but powerful mission:
To find alternative ways to grow your money.
To improve your life and wealth through better ideas.
To pinpoint opportunities you won't hear about from mainstream sources.
To provide the best quality, independent research.
To explain what's really going on in the world and show you how to take advantage.
I am proud to take my place alongside legends of financial research and forecasting such as New York Times best-selling author and the man who predicted the US debt implosion of 2008, Bill Bonner…
Financial publishing magnate and head of the biggest and most successful investment advisory service in America, Porter Stansberry…
And one of the City's most successful investors, former $3bn fund manager… and editor of the UK's oldest financial intelligence advisory – The Fleet Street Letter – Charlie Morris.
Right now the single most urgent message we have to share with investors looking to get on the right-side of world events is this:
Get into gold – and the right gold stocks – pronto!
I have created Gold Stock Fortunes to give you my best stock recommendations, and my best research.
And – as soon as you claim the research on your Gold Investor's Masterplan USB, your FREE 30-day pass to Gold Stock Fortunes will be activated…
A pass worth £149.
With it, you will be granted free, unrestricted access to:
✓ Every issue of Gold Stock Fortunes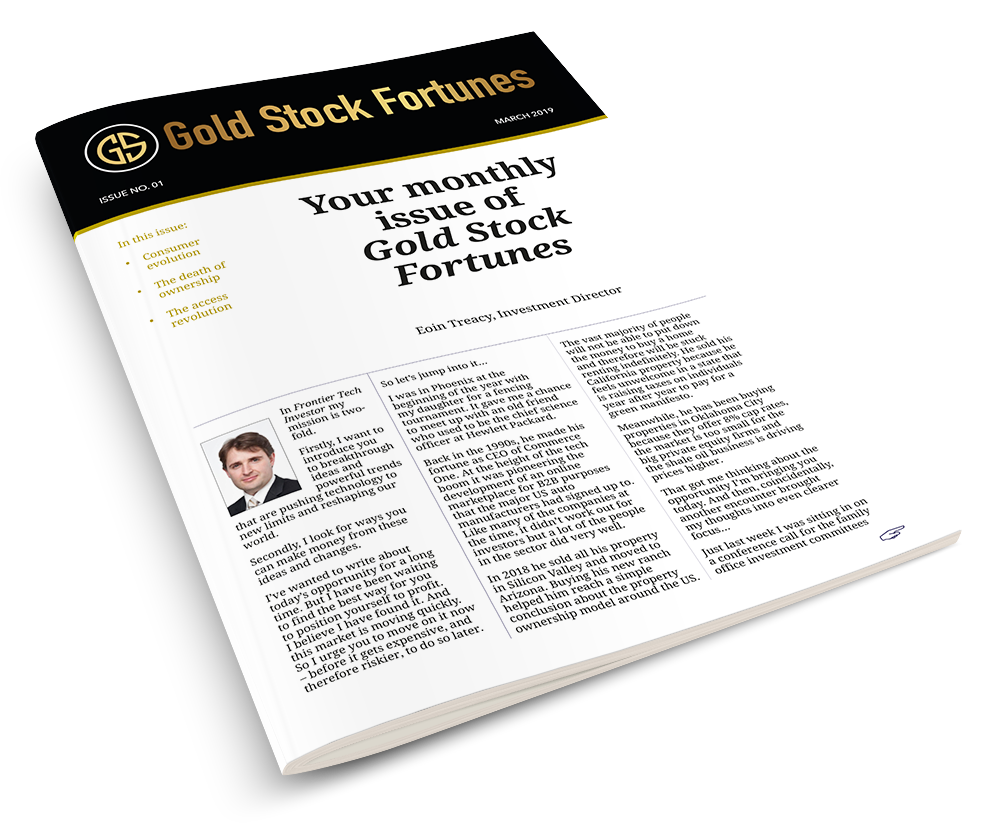 Once a month I send my subscribers a special gold intelligence bulletin, straight to their inbox. Inside is my deep analysis of what's happening with gold. This is big-picture thinking. I'll be joining the dots on the unseen or under-reported events that you need to know about. Your 30-day all-access pass gives you unrestricted access to the latest issue and ALL past issues.
✓ ALL of my gold stock recommendations and model portfolio
My readers have access to FOUR urgent gold stock plays right now… each overlooked miner could see huge growth in the months and years ahead to help you amplify your profits from the gold price boom
When your 30-day pass activates, you will have full access to my briefings on each of these stocks – including my detailed investment case for each, buy-up-to price, all the risks to consider, and the catalysts ahead that could see them rocket in price.
Forecasts are not a reliable indicator of future results
Everything is designed for you to be able to get in on these opportunities quickly and be as informed as possible.
Plus, you also get access to:
✓ ALL of my special gold investing videos and how-to guides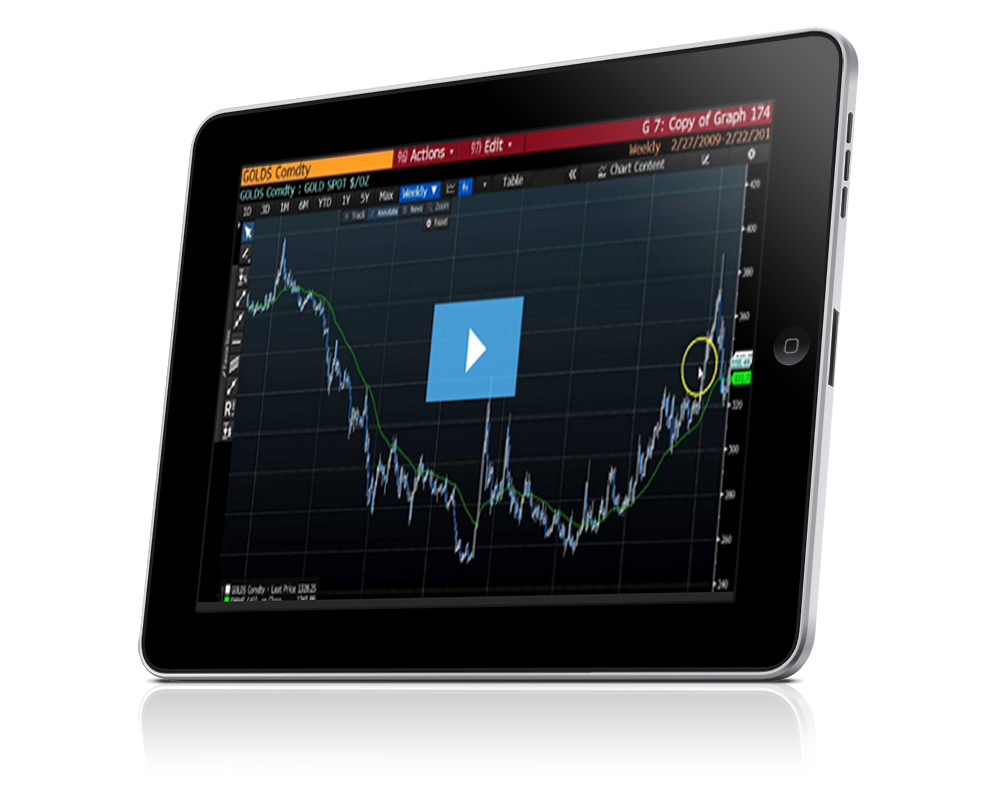 I do not leave anyone behind. Whether you are a novice or seasoned investor – I believe anyone could profit from the next run up in the gold price – because I show you exactly what to do and how to do it.
'How to buy a mining stock'
In this video I run you through all the practicalities and dos and don'ts of purchasing mining stocks using an online broker.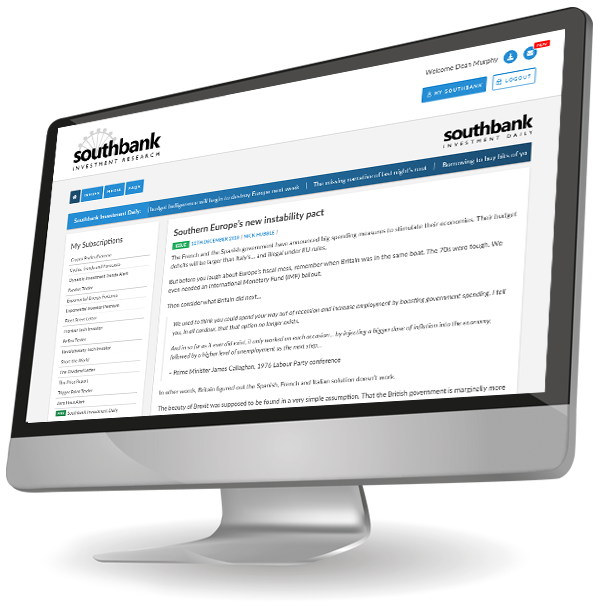 Finally, you also get free access to:
Southbank Investment Daily – an unmissable daily email keeping you up to speed on all the important financial and political changes in the world that matter the most. You'll know what's happening – and how it affects your money.
Worth: £52
Phew!
Laying all that out, I'm taking a risk in overwhelming you… I know that.
But I really want you to see:
I am placing a complete and comprehensive gold investing masterplan on your lap.
Something very valuable… and something that could massively improve your investing know-how and exposure to opportunities in one stroke.
All for a few quid!
So, the big question is… how easy is it to get all of this into your hands today?
Simple answer: IT'S VERY EASY!
Here's the deal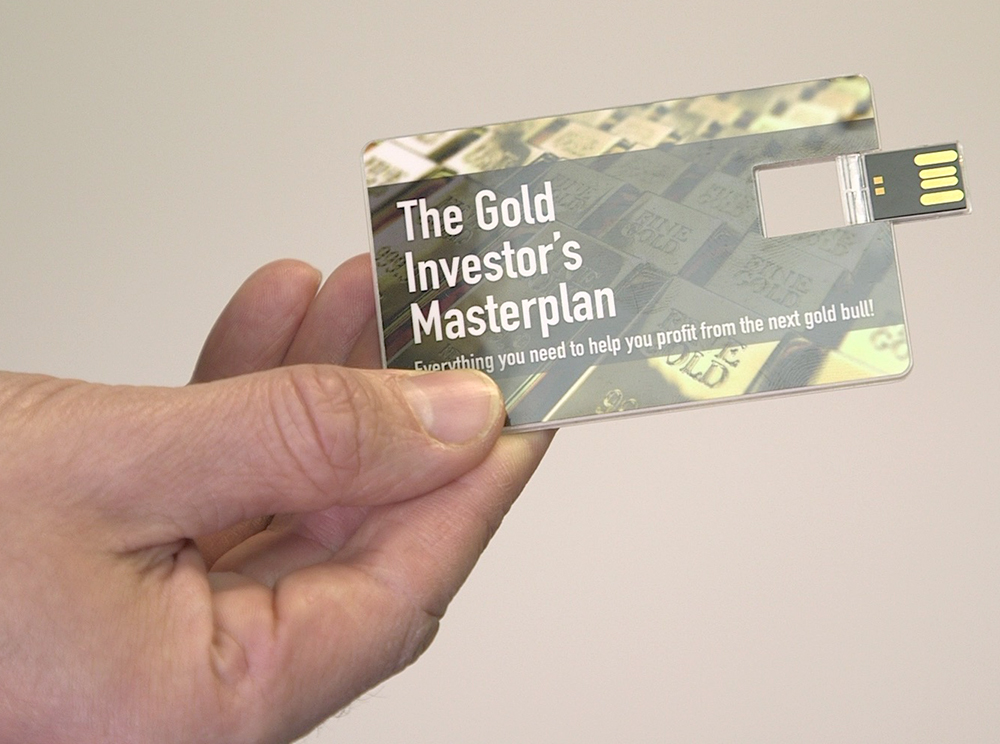 Everything I have just run through is yours today.
It will all be loaded onto your specially produced USB stick just like the one I am holding in the picture to your right…
Repeat: that is £900 worth of gold investing intelligence, videos, guides, research, expert interviews, macro-analysis – the lot.
Including specific gold investment recommendations that could multiply your money many times over…
Forecasts are not a reliable indicator of future results
AND a 30-day unrestricted back-stage pass to my one-of-a-kind monthly advisory Gold Stock Fortunes.
For next to nothing.
You do not pay a single penny for the research.
All I ask in return is that you cover the negligible cost of an empty USB stick. That's it. That is the unavoidable little fee.
I have spoken to a good deal of suppliers and the most cost-effective USB device I can find comes down to £3.95.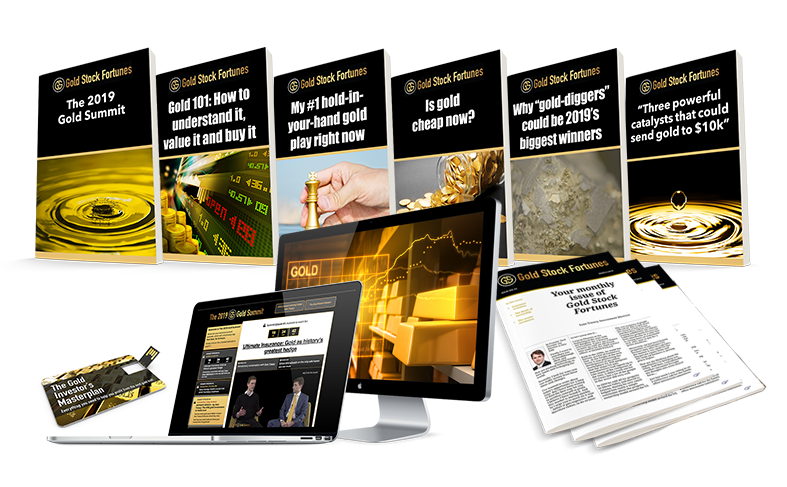 So that's all you will pay for everything you see above.
Just £3.95.
£3.95 for nearly £1,000 worth of expert gold investing research and recommendations with a hell of a lot of profit potential.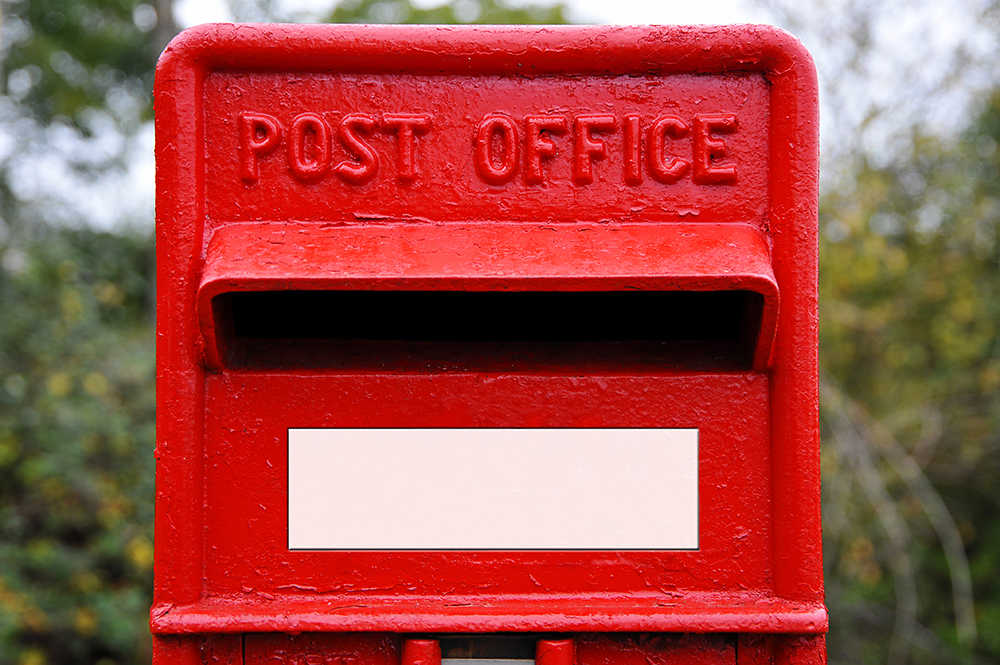 I'll pay for P&P so I can get this over to you as fast as I can!
I'm even covering the 76p per package (!) to get the USB to you in the post and over to you as quickly as I can – first class delivery.
I hope that shows you how determined – and committed – I am to get this useful research in your hands ASAP.
And, frankly, if you are not willing to pay less than four quid for nearly £1k worth for gold intelligence that could make you a ten-fold profit…
Forecasts are not a reliable indicator of future results
Then I suppose you don't really want it!
But if you have read this far, I think you do want it.
So let's not hang about…
Right now, I can only feasibly offer 1,000 USB devices. And I may never offer them at such a low price again.
Uptake will be rapid. And so it should be!
When you have the chance to get investment research that would normally cost nearly £1k to access… for just a few quid… you should jump at it!
Time really is of the essence here…
This same offer will be read by hundreds of thousands of investors looking for the next big market boom.
Frankly, all 1,000 USBs could be snapped up in the next 24 hours!
So without delay, if you want yours:
Do not miss this chance to profit from gold!
Gold has been a treasured investment for over 6,000 years.
But there are obviously times when owning gold and gold stocks is more profitable than others…
As a store of wealth, protection against falling markets and political uncertainty…
In such times gold can skyrocket.
I believe we are entering such a time.
Three powerful catalysts – detailed in one of your special reports on your Masterplan USB – could soon send gold surging.
Past $2,000. Past $5,000. Past even $10,000.
Forecasts are not a reliable indicator of future results
It will shock almost everyone.
But not you.
You will have the investing intelligence you need to move ahead of it… and beat the rest of the profit hungry market to the punch.
Make no mistake…
THIS is your one and only chance to get in at the very start of it. At the point of maximum profit potential… when all the possible upside is before us!
Grab it – claim your Gold Investor's Masterplan USB now!
I am making it easy for you.
I have done something that – to my knowledge – no-one else has ever done before…
I have taken nearly £1,000 worth of gold investing from behind our paywall…
And made it available to you for the cost of an empty USB stick!
If you are serious about protecting your wealth… and profiting from the next big market run up…
You will not hesitate.
Our limited inventory of Masterplan USBs won't last long.
Do not watch on as savvy investors bite my hand off for this deal.
Remember, if you claim yours today, it will hit your doormat in just a few days' time.
And when it does, tear open the small envelope.
Plug in your USB…
And get the gold investing intelligence you need to give yourself a priceless advantage in the markets.
Many thanks for your time today,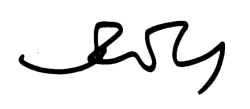 Eoin Treacy
Investment Director, Gold Stock Fortunes
PS. You may never see an offer like it again. Miss it and I believe you will regret it.
During the last gold boom, in the 2000s, I told investors to get in at the start of the bull market… and out almost at the very peak.
Past performance is not a reliable indicator of future results
Those that followed my lead would have minted a fortune from it.
But guess what? I know for a fact that many did not listen.
They missed out. They watched on as everyone else made a packet.
And it is probably the biggest financial regret of their lives.
Don't put yourself in that spot. Don't leave ANY room for that kind of disappointment.
Head it off… take positive action for your investing right now:
I think it would be dishonest of me if I didn't point out that there is a cost to ignoring an opportunity like this.
Of course, you can walk away. You can decide to pass up the chance to get a better understanding of gold and how the financial system works.
But if you do, I think you are unnecessarily limiting your chances of improving your financial life. Maybe you've had enough of hearing from me about this. So, I thought I'd leave the final word to subscribers to my spectrum of investment services.
I think these messages show the deep, rewarding value of having access to the very best investment intelligence and opportunities here at Southbank Investment Research:
"Eoin saves you a lot of time, I would recommend other Investors to take note of his tips and analysis." PG
"In 8 months I have made nearly £138,000 profit." – M.M.
"My goodness what a result, I (you made me) a 240% profit in a tiny amount of time." – KD
"[Your] in depth analysis is second to none". DW
"I did buy 20k of Turtle Beach and made 58k profit." – PW
"Ridiculously good" - £10,163 profit in 6 months! – CQ
It's over to you….
If you would like to join my circle of informed investors…
And if you would like to increase your understanding of what could be the biggest price run of the next decade…